ProStyles Barbershop is more than just your run-of-the-mill barbershop or a place to get a haircut —we're your destination for personalized attention when it comes to hair styling and care. We take the time to help you find a hairstyle that's right for you and can provide you with the styling advice and men's styling products in Phoenix, AZ you need to keep it looking great until we see you again next.
ProStyles HairGuide
Finding the right hairstyle in Phoenix, AZ can be hard. There are so many trends and classic looks that might interest you! If you're having trouble picking a cut and style that suits you, we encourage you to flip through our Pro Styles Hair Guide. We created this guide to help our clients figure out not just what hairstyles they like, but to help them narrow down the features they want to see.
From scissor cuts to clipper cuts, texturing and layering to parts and more, our styling guide helps you recognize what you like, so you can feel confident in picking the hairstyle that's best for you. We'll even be happy to walk through it with you, so you feel confident when the clippers come out.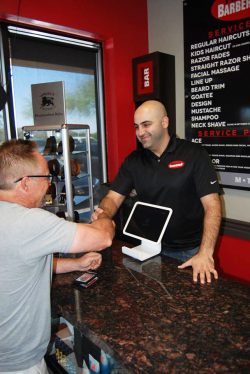 Brands We Use
At ProStyles Barbershop, we believe the best products yield the best results when it comes to styling your hair. It's why we only stock, use and sell products that are tested and used by our expert barbers. When you come to us at one of our locations in Phoenix, Az or Glendale, AZ looking for reliable products you can use at home, we'll be glad to recommend options from:
American Crew
Elegance Gel
Gentlemen Republic
Gibs
Gummy
Jeanie Rub Massagers
Johnny B Hair Care
Layrite Pomade
Marvy Shampoo Brushes
Oster Massagers
Suavecito
Have questions about any of our styling options or the products we use? Schedule an appointment with us and talk to your barber. Or, give us a call at (602) 279-5177 or (623) 251-5315 to speak to a knowledgeable expert.